Wednesday May 27th 2020
The Department of Education has published an information document for parents: Continuity of Schooling: Guidance for Parents/Guardians of Primary School Pupils https://assets.gov.ie/74278/db0a18c35ca94ae48ef9af6679c282ca.pdf
This 5 minute video which has Miriam Gates reading the beautifully illustrated   "Good Morning Zoga" book  for children  can either be listened to as a story or  you and your child might like to participate along as the story is being read by engaging  in the actions https://youtu.be/u-a4iOERMRs or you might try  the short  Zoga lesson: Yoga for Kids "Windy Day" by Jodi the Zogi https://youtu.be/BlWv9QKU2Ak
Here's an activity for our younger students giving an idea of a way in which we can help them to communicate with us. Look through a photo album or photographs on your phone and ask questions such as 'who's this?', 'show me Mammy?', 'let's count the number of people in the photo', 'what colour is Daddy's jumper?' etc. This is a nice activity we could do as a family.
With 'communicating and keeping in touch' in mind a nice activity for some of our older students might be to draw/paint a picture or write a letter, and with the help of an adult put it in an envelope, address it and if possible post it to a loved one, for example to your Granny or Grandad. I'm sure they would love to receive a piece of art or a letter from you! If your post box is close by count the number of steps it takes to get there and back!
Here's a song about some of the ways in which we can communicate with each other! https://youtu.be/73uLVhe5nZU
The students love sensory stories, by clicking on the link below and registering for free you will have access to 7 free sensory stories which are easy to create using items found at home!  http://www.bagbooks.org/bookshop/diy
Some great sensory ideas to get students to explore using their senses. https://handsonaswegrow.com/sensory-activities-for-kids/
Monday May 25th 2020
This week our theme is Communication and Keeping in Touch.
This is a lovely story about a postman delivering letters to some well-known fairy tale characters https://www.youtube.com/watch?v=CeTTqQoJ2Gw
The following may interest some of our senior students. It shows us what happens to our letters after we have put them in the post box https://www.youtube.com/watch?v=L7YlG__1zfY&feature=youtu.be
More fun workouts with Hayley: click on the link and keep BUSY!! Ninja Workout – https://youtu.be/HDr0Prxl4WY
Fine motor skills (Little Learners) might be useful for little fingers https://m.youtube.com/watch?v=MD86MGSBd8w
Friday May 22nd 2020
Music, Movement and Singing Activities: A fun way to develop language, rhyme & rhythm and number concepts. Great to help with motor activities if actions suitable to your individual child are incorporated. You can use homemade instruments like pots, pans or plastic tubs as a drum or instruments made during art sessions for music activities too Music Movement and Singing Activities
Pepperoni Pizza video from Blossom Ireland – watch Ben with DS making this lovely pizza, easy to follow and very apt for our students https://youtu.be/tUT7gw52uRQ
Look at the following video clip to create an easy art/science colour diffusion project: https://www.youtube.com/watch?v=74GsP4QwhaY
All you need are the following materials:
Paper coffee filters
Markers (colour)
Water
Wednesday May 20th 2020
If you would like to try a gentle Zoga activity with your child based on a very popular and loved story  please check out  https://youtu.be/xhWDiQRrC1Y The Very Hungry Caterpillar  a Cosmic Kids Yoga Adventure.
Some relaxing music for stress relief https://www.youtube.com/watch?v=lFcSrYw-ARY
Our older students might like to try this cool SCIENCE experiment – make magic milk! – count the colours you see and look at the beautiful patterns that are created!
Our younger students might like to try this simple science experiment and you can count the number of raisins you see dancing in the fizzy water!
https://www.sfi.ie/site-files/primary-science/media/pdfs/col/dancing
Some simple and easy sensory activities to try at home.
25 Sensory Activities for Kids | Hands On As We Grow®
Monday May 18th 2020
Coach Hayley has a real fun game to play this week…click on the link and have a go!!
Traffic Lights Game – https://youtu.be/eAQ3pPjqFd4
Here is a short story explaining all about SCIENCE which some of our younger students might like https://www.youtube.com/watch?v=PzqHs2Qb9Tk
Here is another SCIENCE story about the world we live in 'Here we Are', which some of our senior  students may enjoy listening to https://www.youtube.com/watch?v=kkcjKbbF9JA
Finally, many of our students love this LAMH song all about colours https://www.youtube.com/watch?v=mr-VFbrnGs4
Take a look at the NCSE website with lots of practical activities to help develop Fine and Gross Motor Skills at home NCSE-Fine and gross motor skills
Friday May 15th 2020
Here are some fun activities that children can do outside around their homes.
Scavenger Hunt -This can be of things that you find inside or outside the home.
Inside the home: https://i.pinimg.com/736x/df/f7/8b/dff78b2931b8c38513ec07be8b55fcc3–sleepover-scavenger-hunt-indoor-scavenger-hunt-ideas-for-kids.jpg
Outside the home: https://soeasybeinggreen-blog.com/wp-content/uploads/2016/06/Back-Yard-Scavenger-Hunt.png
Helen, our Home Economics teacher has given a recipe for Sweet Dough Balls which requires very few ingredients or equipment. In cookery classes we always try to encourage the children to use all their senses when they are cooking and often trace letters or numbers in flour on the table so they can get used to the feel of the flour.  https://padlet.com/school270/j03kwpy3ofgtbz6p
Print out a colouring picture of a cake and colour it in or you can colour it in online. Enjoy! http://www.supercoloring.com/coloring-pages/cake-0?colore=online
You might find the website Learning Without Tears useful for family members https://www.lwtears.com/programs/distance-learning?pc=COVID_20200316_PROSPECTS_US
Wednesday May 13th 2020
Having some relaxation time is important for our wellbeing and you may just get an opportunity during the week to engage in a relaxing activity.  You might like the  5 Minute Guided Meditation – Body Scan For Relaxation, Tension and Stress Release  https://youtu.be/HsmSEZmUT8o  (suitable for adults older students)  and/or the short  Animated Calming and Stretching  Exercises for Children https://youtu.be/cyvuaL_2avYNumber

Here's the '5 Gingerbread Men' Song on Youtube https://youtu.be/wCZ3dzFK6BI
Sorting cutlery is a nice practical activity that can be done at home! If you have plastic cutlery sorting activities can be done in a few ways – sort all the knives, forks, spoons into piles or sort the cutlery by colour.
Our students love sensory activities. The TacPac is a sensory communication resource using touch and music to align the senses and develop communication skills.
Materials and link:
fan/paper
Sponge
Bubbles
Wooden spoon
YouTube · Barry DaviesPreviewPreview7:58Tac PacOct 1, 2015
Monday May 11th 2020
Click on our first video clip of the week to help keep us dancing and moving with Coach Hayley Learn to dance like a Fairy (Dance Routine)   https://youtu.be/28h7_lZzJQY
As our theme for this week is 'Baking' we have added the 'Green Eggs and Ham' story. https://www.youtube.com/watch?v=jdotPwVJYzs and here is a link to a matching word game relating to this story https://www.rif.org/literacy-central/word-match/green-eggs-and-ham-memory-match
Colourful Semantics – this link leads to a free download (once you register for free) of a useful language resource for some students
https://www.tes.com/en-ie/teaching-resource/colorful-semantics-iwb-activity-6342161
Learning Without Tears is a useful site for developing handwriting and using keyboards. https://www.lwtears.com/programs/distancelearning?pc=COVID_20200316_PROSPECTS_US
Friday May 8th 2020
Coach Hayley's inclusive video for all to assist children with physical disability – guest appearance by Dean Rock  https://youtu.be/D1EYLGo-mYY
Some recipes suitable for older students https://ncse.ie/wp-content/uploads/2020/05/NCSE-Recipes-and-Activities-to-Support-Home-Learning.pdf
Every child can be an artist so let's create some symmetry butterflies https://youtu.be/pF2nwgRWBkw
Materials

·         Paper

·         Scissors

·         Water colour paint

·         Small cups

·         Spoons

Instructions

·         Cut paper butterflies

·         Pour paint into cups

·         Spoon drops of paint to one side of your butterfly paper

·         Fold paper and open butterfly painting

·         Well done!

 
Wednesday May 6th 2020
Try another of Hayley's exercise routines – the Bean Game (Great Warm Up Game) https://youtu.be/x0XXE4t88a4
Super Shed Stories have a lovely range of stories. Today's story is the Gingerbread Man. https://www.youtube.com/watch?v=s8cMFENPPuE
Some children really enjoy playing with and chatting to puppets. Simple idea for you to try – https://youtu.be/9yn_pzsdhAY
Friday May 1st
Some lovely handwashing songs and activities from the Sesame Street Gang are available on the NCSE website  https://sesamestreetincommunities.org/topics/health/?activity=teaching-handwashing&utm_source=SS.org%20Caring%20for%20Each%20Other&utm_medium=link&utm_campaign=Caring%20for%20Each%20Other
NEPS have produced some relaxation techniques that might be useful for some of our older students. https://www.education.ie/en/The-Department/Announcements/new-relaxation-techniques.pdf
Some of you may be interested in a webinar on TEACCH/Shoebox Activity Tasks coming up on Monday evening next May 4th. Ron Larson (former TEACCH Therapist and creator of Shoebox Tasks) is giving a webinar about using teach activities at home. May 4th 8pm Irish time
Topic: Working One on One with Your Child at Home – The Basics
Time: May 4, 2020 03:00 PM Eastern Time (US and Canada)
Join Zoom Meeting
https://us04web.zoom.us/j/78517211562?pwd=ZVJXUFhaL3g1Z2RUaytkakhXMUlsZz09
Meeting ID: 785 1721 1562
Password: 1UhraB
Wednesday April 28th 2020
Our second video this week from Hayley is Ninja Endurance Workout: https://youtu.be/RlYIxJIlbY4 You may like to try it out today.
The theme of the week from the NCSE is Gardening, there are lots of ideas on this week's link https://ncse.ie/theme-of-the-week
If you are looking for art/craft supplies Evans Art Supplies Shop is re-opening today for online orders. They have a range of educational, craft and painting supplies available and deliver to homes  https://store.evansartsupplies.ie/Educational-1347/
Monday April 26th 2020
Good morning everyone. Hayley – the sports coach at Stewarts – has made some excercise videos for us. You might like to try  Racing Diggers at home today: https://youtu.be/XamSvmEilpI
Friday April 24th 2020
Hope everyone is keeping safe. Thanks for your survey replies and email contacts that you sent to us. We will follow up with you shortly through the class teachers.
Read a Story – The Very Hungry Caterpillar
Lucan Library is doing a storytime daily – check out their Facebook page
Another useful websites is https://do2learn.com
Finally…
Make Sensory Bottles
Relaxation Visuals & Music
Wednesday April 22nd 2020
Class teachers will be in touch with everyone this week.Thanks to the parents who responded to our survey, it's not too late to reply and it only takes about 3 minutes to complete.
The NCSE continues to have some useful resources on their website. We've highlighted three for today.
https://ncse.ie/wp-content/uploads/2020/03/Activities-and-ideas-for-learning-at-home-for-children-with-Severe-and-Profound-Needs.pdf
https://ncse.ie/wp-content/uploads/2020/03/Lets-Get-Regulated-Information-for-Teenagers.pdf
https://ncse.ie/wp-content/uploads/2020/04/Developing-Language-During-Everyday-Routines-An-Information-Guide-for-Parents.pdf
For some of our older students the Junior Cycle team at the Department of Education have lots of useful ideas on their website. This link is from their Spring range of Resources http://www.jct.ie/perch/resources/wellbeing/spring-padlets-2020.pdf
Third Years and Fourth Years in Rosscourt covered dance in PE during the last school term.  Here are some of the music clips that we used and might be helpful and familiar to our older students.
Monday April 20th 2020
TWINKL offer a wide range of ebooks which are great for storytime – stimulating conversation and reinforcing new words and ideas.  By putting ebooks into the search box on twinkl parents and children will have access to all the ebooks available on their site. Twinkl also offer a wide variety of activities to encourage writing – pre writing activities, letter formation, and handwriting.  They can be found by searching the site under the above headings. They provide a wide range of nursery rhymes and activities to help with gross and fine motor development.
Some suggested activities:
Make sight words/letters with playdoh
Make words/letters in sand/shaving foam/rice
Play sight word Jenga (write some words on Jenga blocks, child says/repeats word before removing the piece.
Practise cutting skills
Play I Spy Nature (photo included)
Picture Scavenger hunt (photo included)
Act out favourite stories using props e.g. "We're going on a Bear Hunt".  This activity could also be recorded for children to watch later.
Threading activities
 Suggested self-care / daily living skills to develop whilst at home
(Visuals for in-task schedules to develop these skills are on TWINKL)
With assistance/ reduced assistance:-
*Hand-washing (rubbing hands well together, using soap, rinsing hands and drying hands thoroughly)
*Teeth-brushing
*Dressing Skills (including moving onto using fasteners, if appropriate)
*Set table (even put a cup and placemat (could be sheet of card on table), sit at table whilst eating, bring plate to sink when finished
Some of the following curricular activities may also be helpful at home:-
With assistance/reduce assistance:-
*Butter Toast/ bread/cracker, spread favourite topping (Jam/ Nutella/ Cheese spread etc.) (Develop knife/ spreading skills with assistance/ reduce assistance ) – (recommend putting a pat of spread on the side of the plate to use)
*Make frozen juices (with help put in pre-chopped fruit pieces into blender, pour in base juice etc)
*Spread icing/ melted chocolate onto cake/ biscuit.
*Put toppings on sandwiches or pizza
*Roll pre-made dough with rolling pin; Cut out shapes using cookie cutter and put on oven tray.
*Transfer spoons of uncooked fusillli pasta from packet/ container into saucepan (Adult can then fill pan with water and bring to boil on hob)
*Spoon and stir chocolate powder or cocoa into milk, Count and put in a certain number of mini- marshmallows.
*My favourite- Help to make rice crispie buns as a treat!
For more fine motor activities – https://www.learning4kids.net/category/fine-motor/
P.E. ACTIVITIES
Mr. Men balances and stretches (available on TWINKL):
Mr. Tall (stretch up tall)
Mr. Small ( crouch down low)
Mr. Rush ( run fast on the spot)
Mr. Jump
Mr. Bump (use cushions)
DVD Game:
Fast forward (run fast)
Rewind (walk backwards)
Pause (freeze on spot)
Stop
Friday April 3rd 2020
At this point in time we are waiting on further direction from the Government in relation to when after Easter schools will be re-opening but it is most likely that our next website posting will be on Monday April 20th. During these exceptional times, as we head towards the Easter period, we send continued good wishes for safety and health to our families and community.   
The Bagbooks website has some good multisensory stories. This link is helpful for you to make up a story and there are sample videos provided. You must register first and this only takes a few minutes  http://www.bagbooks.org/bookshop/diy
For the students who love animals, we've included the link to zoos around the world. Dublin zoo are streaming penguins being fed at 2.30pm daily.
https://www.holidaypirates.com/travel-magazine/13-zoos-that-offer-live-streams-see-giraffes-koalas-pandas-tigers-penguins-more_35765?sc_src=email_1781336&sc_lid=131849624&sc_uid=E9XMkMdAJd&sc_llid=79845&sc_eh=90c96067707bdfbc1&utm_campaign=UK_2020_12_We_newsletter_all_all_20200318&utm_source=newsletter
World Autism Awareness Day is 2 April 2020 and April is Autism Awareness Month. Middletown Centre for Autism works all year on the promotion of excellence in autism education. There are some special events happening throughout April from the Middletown team in recognition of this important day and month https://www.facebook.com/centreforautism/       https://www.middletownautism.com/
CJ Fallon is offering free online access to all of its online books from now until the end of the school term https://www.cjfallon.ie/
Some students enjoy making a calendar and checking out the days of the week on the Starfall website https://www.starfall.com/h/holiday/calendar/?t=290829597
Wednesday April 1st 2020
Good morning everyone. How about a little cookery today it might suit some of our older students – if you feel up to it.
Chocolate Cornflake Cakes  – Ingredients
100g milk or dark chocolate, broken into chunks
100g cornflakes
Children:Weigh out the ingredients. Older children can do this by themselves with supervision and little ones can help to pour or spoon ingredients into the weighing scales. Put 50g butter, 100g milk or dark chocolate, broken into chunks and 3 tbsp golden syrup in a saucepan or microwavable bowl. Put 100g cornflakes in another large bowl.
Grown ups:Melt the weighed butter, chocolate and golden syrup in the saucepan over a low heat or briefly in the microwave. Allow to cool a little before pouring over the cornflakes.
Children:Stir the ingredients together gently using a wooden spoon. Spoon the mixture into 12 cupcake cases arranged on a muffin tray (or baking sheet, if you don't have one). Grown ups will need to do this for younger children or simply arrange on a tray and let the mess happen. Put in the fridge to set.
You might find the following free apps helpful at some stage over the next few weeks.
Touch the Sound
Available from: Apple App Store
Description:
This app is great for developing an awareness of sounds and children simply have to listen to a sound and then choose the picture that matches the sound. The themes covered include animals, home, musical instruments, nature and transport. The app is fully customisable and could be used to add familiar sounds from a child's own surroundings.
Cost: Free
Rating: 4.5/5
Monster Hunt
Available from: Apple App Store
Description:
This app could be used to develop memory skills. Children are shown where the monsters are hiding and then have to find them once the tiles are turned over. The game gets more challenging the further you progress. This app would be useful for developing visual memory skills when working with children with special educational needs.
Cost: Free
Rating: 4.5/5
Action Words
Available from: Apple App Store
Description:
This app allows students to learn and identify different verbs by choosing the image that matches the chosen verb. This app can be customised to include images and verbs that aren't already on the app. This could be used to develop language skills and to create social stories also.
Cost: Free
Rating: 4.5/5
Availability of Lámh Signs Online
Free and Open Access to Lámh Signs Online until May 31st 2020

With children and families staying home amid the pandemic, Lámh is offering free and open access to Lámh Signs Online until May 31st 2020. This resource has videos of all 580+ Lámh signs, including timely signs like Wash Hands, Space, Hot, Clean, and Doctor.
Go to www.lamhsigns.org
Click on Apply for Membership 
Enter the code lovelamh 
Fill in your name and email
Check your emails to get the link to create your own password
Login and see all signs.

Usually Lámh users and families start to learn Lámh signs face-to-face at a training course with tutor support. Currently Lámh training courses are postponed, routines have been upended, and families are at home. We hope that during this unsettling time, this temporary access will give support to all those who use Lámh signs.
Our Good Morning song today is I Wake Up (www.dreamenglish.com)https://m.youtube.com/watch?v=eUXkj6j6Ezw
March 30th 2020
Good Morning everyone, we hope you are continuing to keep safe and well. If you have any questions or would like advice please private message any of the social media accounts (Facebook, Instagram or Twitter) or email the school office (school@stewartscare.ie) and we will do all we can to help or pass query on to a student's teacher.
A fun and active activity for all the family to get involved in – Mark from Insanity Fitzone Studio and Gym (Palmerstown). The fun fitness classes are live two to three times a day on the below Facebook account. A great online exercise resource that staff, parents and students find helpful and easy to follow.
https://www.facebook.com/groups/227562735048856/?ref=share
https://www.facebook.com/trxinsanityltd/
Here are a few ideas to keep students' fine motor strength up over the next few weeks. Use these activities with homemade playdoh or other items you might find lying around the house. You can alter the activities slightly to use whatever you already have at home.
Our song for today is the Good Morning song available on www.dreamenglish.com  https://m.youtube.com/watch?v=U9Q7Y3t4m3g
March 26th 2020
Good afternoon everyone, we hope you are all keeping safe and well.
The 7 days of the Week Song – loved by all! https://m.youtube.com/watch?v=3tx0rvuXIRg
This link to HelpKidzLearn includes Eye Gaze related activities. There are also suggestions for other other Apps with 'Cause and Effect' activities. The site is offering a Free Trail for 14 Days for some programmes. https://www.helpkidzlearn.com/updates/school-closure.html?utm_source=newsletter&utm_medium=email&utm_campaign=covid&utm_content=hklfreeresources&utm_source=Inclusive+Technology+%26+HelpKidzLearn&utm_campaign=3506fb6575-EMAIL_CAMPAIGN_2019_09_25_02_43_COPY_01&utm_medium=email&utm_term=0_27aa929edc-3506fb6575-15669175&mc_cid=3506fb6575&mc_eid=0a0d55f334
March 25th 2020
This morning we are including two links for physical activity. PE with Joe might suit some older students. https://www.youtube.com/results?search_query=pe+with+joe
Stewarts have made a video to help  keep active and will be helpful for lots of our students https://youtu.be/-tZrKPcSvxM
Many students love The Handwriting without Tears Mat Man Song
https://m.youtube.com/watch?v=ec7J57YewxQ
Here is a link to other songs from this programme that students may be familiar with
https://m.youtube.com/watch?v=oV6waGY-QT8&list=PLzScKdbKJbPsKdxac2JyOdLopCekDOTFi&index=2&t=0s
March 24th 2020
Dear Parents
We hope our students and their families are keeping well and safe during this very difficult and challenging time.
We would like to share with you some useful ideas and resources which may help keep some children occupied and engage with some learning activities over this period of enforced school closure. The activities and resources are ones the children enjoy in school, some may or may not be successful in the home setting and not every resource will be suitable for everyone. We will include music, craft, physical activities, relaxation suggestions, story, sensory and fine motor activities – all of which the students enjoy daily. We will vary and add to the resources. Please use as best suits your child and your family.
We will post ideas on the school website, Facebook, Twitter and Instagram on a regular basis. Keep safe and well everyone.
The Learning Station site is one that teachers recommend for engaging our students and it might be a useful singalong to start off with. https://www.youtube.com/results?search_query=the+learning+station+songs
The NCSE is developing a suite of online resources, which is available on their website. The first resources are focused on SLT and OT, and further resources are currently being prepared
https://ncse.ie/online-resources
Here is the link to Twinkle which is free now for parents. It has a huge amount of resources from worksheets, pdfs, etc. in all curricular areas. https://www.twinkl.ie/
Barefoot books appeal to all of children and some of our students have their own specific favourites https://www.youtube.com/results?search_query=barefoot+books
Class 5A
We love using lots of different assistive technology to help us access our curriculum. We use hand and head jellybean switches, eye-gazes with laptops and specialist software, Big Mack switches, an Eclipse, an interactive whiteboard and an iPad. We love language and communication lessons, fun sensory activities, P.E. and exploring our environment. Below you will see us enjoying some lessons and using our devices.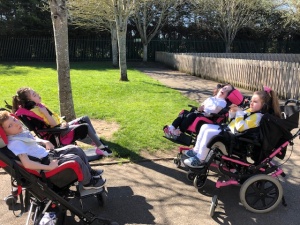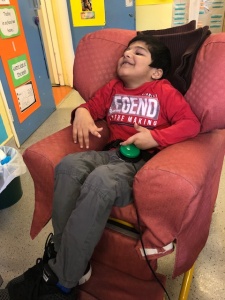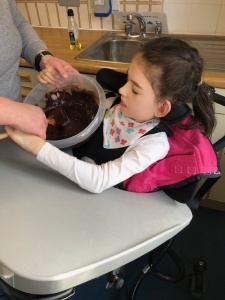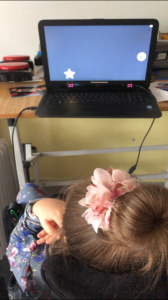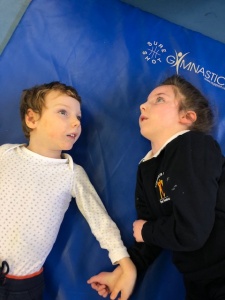 Class 6B
We love reading stories. This year for world book day we read 'We're going on a Bear Hunt' by Michael Rosen. Callum is feeling all the leaves and twigs from the story and Aislinn is laughing as we are reading how the bear is chasing everyone!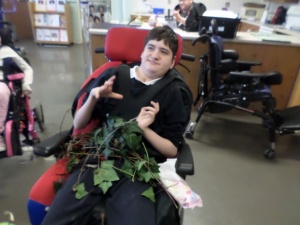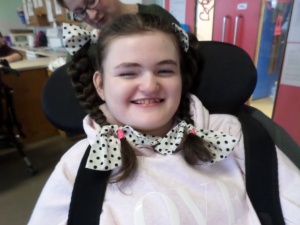 We also love sensory and music activities and below you will see Lauren carving a pumpkin for Halloween and Paul Ciaran listening to one of his favourite bands Green day.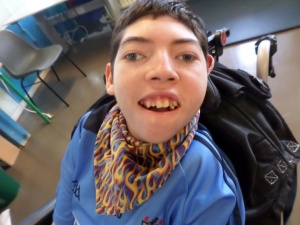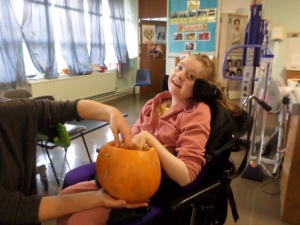 Home Economics Classes: Our senior students have participated in Home Economics classes this term. They have at great fun learning how to prepare and cook simple snacks including pizza, wraps and toasted sandwiches. The students have also made pastry and learned to use it to make sausage rolls and cheese and ham pinwheels.  For the summer term classes will focus on using summer fruits and include some treats including milk shakes.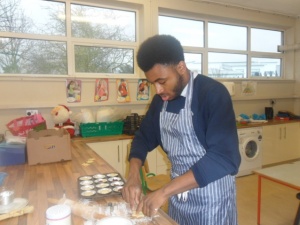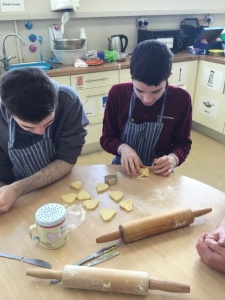 Class 7A
We love learning through play and participating in sensory activities. We all communicate in different ways using vocalisations, gestures and PECS. Have a look at us working hard and having fun.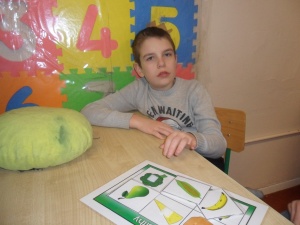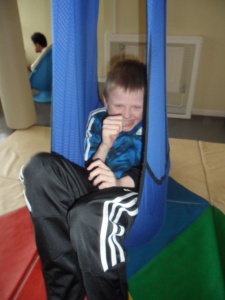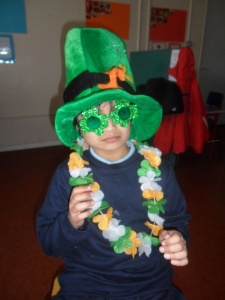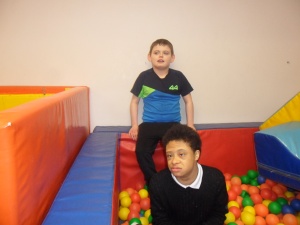 Class 2A
This year we have worked very hard on developing our language and communication skills and our social skills. We love Literacy lessons and learning new symbols and words. We have developed our fine motor skills by engaging in TEACCH activities, completing jigsaws and participating in structured play. Look at us doing great work below!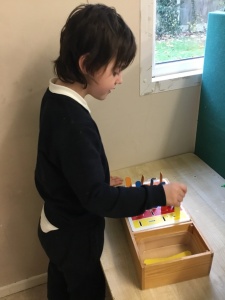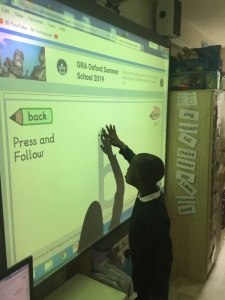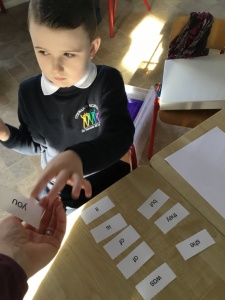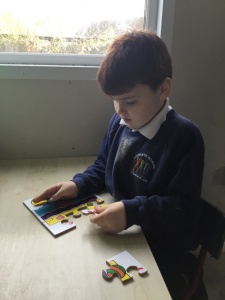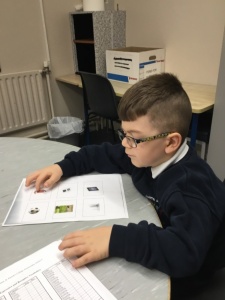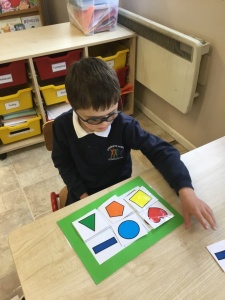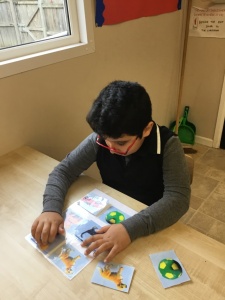 Class 6A
We went to Airfield farm for our school trip and we saw pigs, cows, calf, goats, chickens and lots more. We had a picnic in the sunshine and got to feed the cows! In our class we love doing messy play with jelly or water, doing our switch work and our number songs.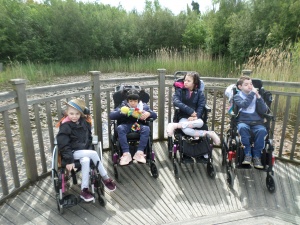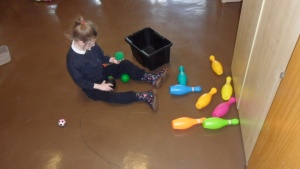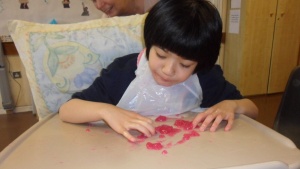 Class 3A
We use lots of different communication devices in our class and love using our PECS to make choices throughout the school day once we have completed our work.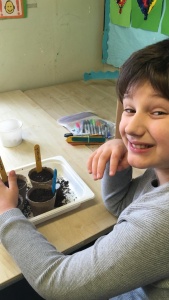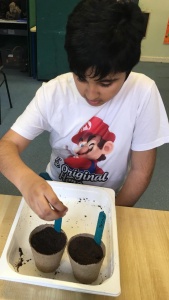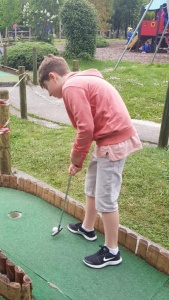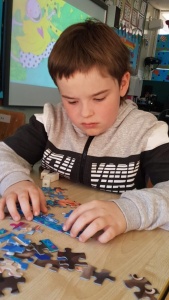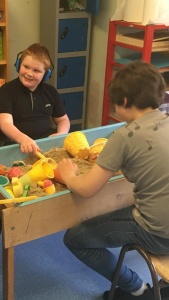 Senior school: 2nd Years
Second years enjoy various subjects , such as reading, writing and maths.  Each student works from a personalised  work portfolio which they really love and take great pride in. We love using the interactive whiteboard too, to help us access the curriculum and to learn from each other. One of our favourite times during the day is circle time when we do our language work. Here we learn our LAMH signs, many different topics like the weather, seasons, animals etc. and we discuss any class news from the weekend.  All students are great participants!!!! For fun we enjoy many different activities, for example;  P.E, Bizzy breaks, choir, home economics, TacPac, water play and art. Please see some pictures below of us doing our work and having lots of fun while we do so.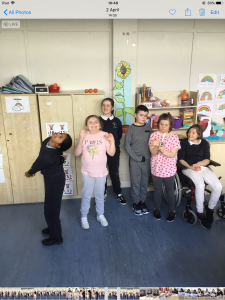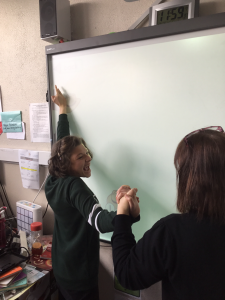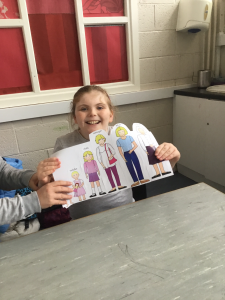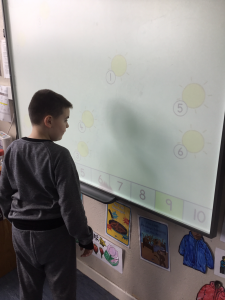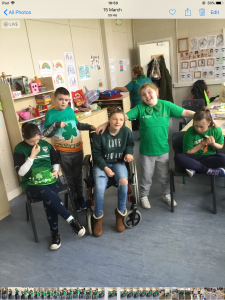 Class 2B 
This year for our school trip we went to Clonfert Pet Farm and had great day. We enjoyed jumping on the bouncy castle, playing in the soft play area and seeing the animals. This year we have been working hard on our individual targets and love completing table top work.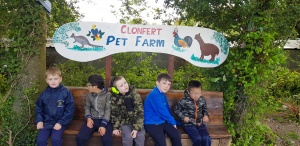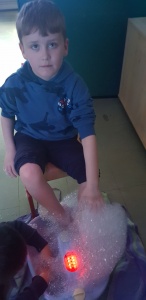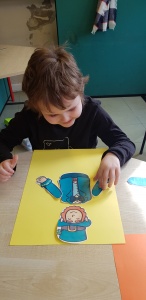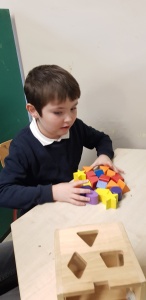 Class 4B
We really enjoy number work and learn through seeing and feeling how number shapes connect with each other. Sometimes we work in groups and sometimes we work independently.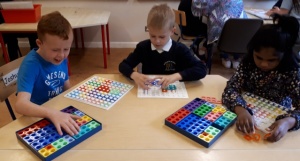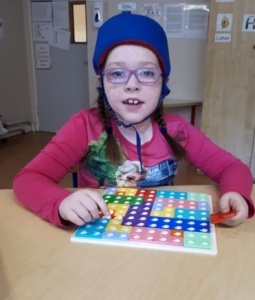 Class 3B
We really enjoy group work and sensory play in our class. This year we have worked really hard on developing our independence skills and social skills. We love to get out in the community and every Friday we walk to Aldi. This helps us develop our money skills and social skills.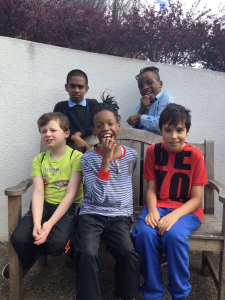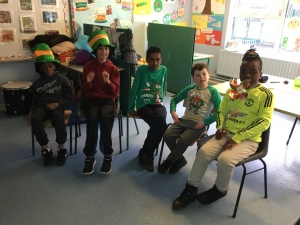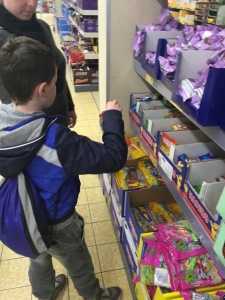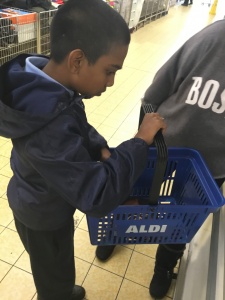 Class 7B
We love to experiment using different materials during art lessons and working on our fine motor skills by building towers,  completing jigsaws and pre-writing worksheets. One of our favourite activities is baking where we can experience smelling different smells and touching different textures.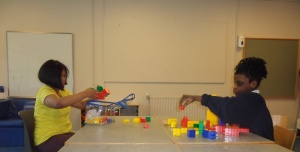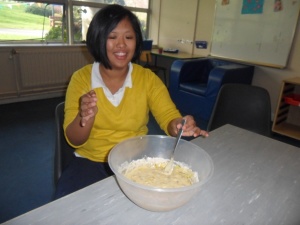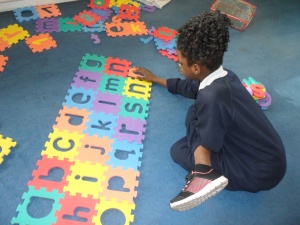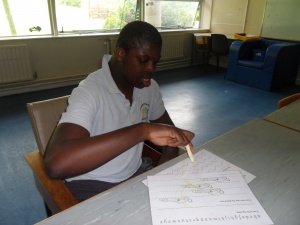 Class 1B
This year is our first school year in the junior school and we like to make music. We enjoy marching activities to the rhythm of music and we love to use musical instruments to play along with our favourite songs.